About Us
Modern Paving has quickly become one of the nation's fastest-growing and most experienced outdoor landscape contractors specializing in California pavers and artificial grass. They offer products and services that have grown to include a suite of outdoor living elements such as BBQ islands, low-voltage lighting, California retaining walls, pool installations and much more. Our experienced landscape contractors can completely construct an overall transformation from start to finish that our clients will love. Our streamlined process in landscaping is backed by years of positive reviews and results.

Our customers love the fact that we're so personally involved in their projects and not just an impersonal sales-driven contractor like most others. Many are surprised to find out that the overall process is much more enjoyable than they expected. Our clients know they're working with a partner who's fully invested in achieving their goals, which is why we have curated an efficient process that allows our customers to be a part of every step to ensure the finished product is perfect to their standards. Whether you are looking to create a unique design for your patio using pavers in the Bay Area or are interested in installing a hot tub in your backyard, Modern Paving can get the job done right! Let us help you with your next outdoor project by contacting us at (855) 955-7283 to schedule a free consultation.



History of Modern Paving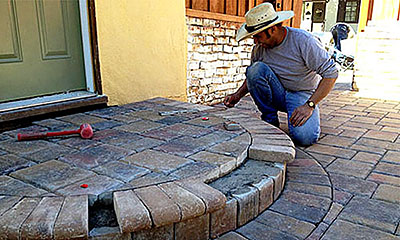 Brothers Bill and Matt Lallas have been in the outdoor living design & build business since 1985.

In 1991 Matt received his landscaping license and started Lallas Landscape. Both Bill and Matt saw the increasing value of interlocking pavers as a building material for outdoor living and commercial space as well as the increasing quality and use of synthetic grass and have been growing the company by enhancing the long-term strength of the beauty of clients' projects for now over 2 decades in Southern California.

In 2013 Bill and Matt expanded to Northern California
Modern Paving expanded to the Greater Bay Area with help of the design and build experience of David Tetrault. David shares the same vision of enhancing the long-term value of their clients' outdoor space by offering unparalleled customer service and installation quality.

The entire team understand that they don't get what they want until the client gets what they want. Everything Bill, Matt, David, and the entire team stand for lends itself to be a true partner when tackling any property improvement project.