Commercial Services
We at Modern Paving are a reputed and highly experienced business in this field. We have over 30 years of experience behind us and offer services to commercial clients across Southern California. If you are looking for appealing hardscaping features built using high-grade products, we are the professionals to call. We are focused on providing excellent landscape masonry elements services at very cost-effective pricing. The range of services we offer our commercial clients includes: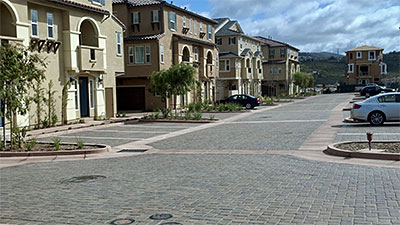 Paver Installation For New Communities
If you are a developer and need paver installations for vast spaces in your community construction project, you need experts like us for the job. We have the know-how, skills, and equipment required to handle these projects professionally and in a timely way. We use high-quality paver products in our projects and make sure that the installation is carried out as per your requirements. Paver installations for new communities have to be completed within a specific time frame as other services are dependent on it. We understand this and make sure that the job is aligned with your schedules and completed to industry standards. Read more about Paver Installation For New Communities »


Permeable Paver Installations
Since the outdoor areas of a property are exposed to the elements, it is very crucial to make sure that suitable quality materials are used in the installation. Today, many property owners are conscious of the types of materials they use in their projects. Many are opting for eco-friendly materials such as permeable pavers. We offer high-quality permeable paver installations for commercial spaces. Since these projects are generally larger in scale than residential ones, you need the skill and expertise that professionals like us can offer. We provide you with detailed information about the different types of permeable pavers available and complete the installation to industry standards. Read more about Permeable Paver Installations »


Old Pavement Pavers Upgrade
If your old pavement is looking dull and drab and you feel that it needs a revamp, simply call us. We have the creativity; skill as well as resources to provide excellent pavement paver upgrades services. When we are installing these pavers, care will be taken to ensure that the new paving stones complement the appearance and aesthetics of other features in your landscape. We are committed to providing our clients value for money, and you will find that our services are incredibly cost-effective. We make sure that every job is completed correctly, meticulously and within the committed time frame. Read more about Old Pavement Pavers Upgrade »


Pool Deck Pavers Upgrade
If you have a pool on your commercial property and need the pavers on the deck to be replaced, we can provide you with customized solutions. There are different types of pavers to choose from, such as concrete, brick and natural stone. Our team will help you with all the information you need about these products. Our guide will help you choose the right kind of paving stones you need for your pool upgrade project. We understand that there will be many other features and installations in this space. It is why we make sure that the new pool pavers sync perfectly with the existing installations. Our team is here to help you make the right decision so that your new poolscape is functional, safe, and aesthetically appealing as well. Read more about Pool Deck Pavers Upgrade »


Clean And Seal Pavers
Since paver stones are exposed to the elements, they tend to deteriorate over the years. These surfaces can gather moss and mildew or become scratched or stained with sap, motor oil or rust, etc. One of the best ways to ensure that your pavers are well protected is to get them cleaned and sealed with regularity. We provide high-quality commercial clean and seal services for different types of pavers. We use the latest techniques in our work and make sure that the sealant products are best suited to the types of pavers you have on your property. This helps keep the surfaces looking new and well-protected for a long time. Read more about Clean And Seal Pavers »


Artificial Grass
Natural grass in the outdoor areas of a property adds a very refreshing and green look to the space. However, these features can be tough to maintain. This is especially true if you have very vast landscaping with expansive lawns. This is where artificial grass comes into the picture. Modern-day artificial grass looks very much like the real thing. It is easy to maintain, installing it is quick, and it can last for numerous years as well. We provide high-quality artificial grass installations to commercial clients and will ensure that the project is completed to your expectations. Read more about Artificial Grass »

For any more information on our hardscape installation services, contact Modern Paving today at 1 (855) 955-7283 to receive a free estimate on your project. You also have the option to request a free consultation through this page. Send us your project details, and we will be more than happy to help you kick-start your next project.