Residential Services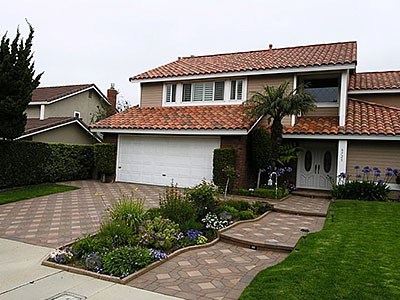 We at Modern Paving are a highly respected business in the hardscaping space. We have over 30 years of experience in this industry and serve residential clients across Southern California. If you are looking for outstanding workmanship and hardscaping features constructed using high-grade products, we are the company to call.

Our team is focused on providing excellent landscape masonry elements services that are in line with our client's requirements. We offer the perfect balance of quality and competitive pricing. The range of services we handle for residential clients includes:


Hardscaping
Hardscapes are an essential aspect of any landscaping. These elements and installations become the foundation of various other features that you get installed in the yard areas. These elements have to be planned perfectly and installed expertly. Our team can design and build paver patios, paver walkways and driveways as well as, poolscapes and outdoor living areas. We use high-quality paving stones in our projects so that all of your outdoor living elements and other hardscapes are resilient and strong. Whether you need new installations or require hardscaping upgrades, we provide reliable and cost-effective solutions. Our team is here to help you create the perfect yard areas on your property. Read more about Hardscaping »


Paver Walkways
The walkways on your residential properties see considerable use over the years. Aside from this, they are also exposed to the sun's rays and changing weather conditions. This is why we recommend the use of paving stones for walkways. Since there are many different types of pavers available on the market, you must have a clear idea about these products. Our designers are here to help you with all the information you require. They are also very creative in their approach when it comes to designing paver walkways. We complete the installation to industry standards so that your walkways will provide years of service, with very little maintenance. Read more about Paver Walkways »


Paver Patios
A patio space is an excellent addition to your residential property. It allows you to enjoy the outdoor spaces of your home while extending the indoor living areas. However, this transitional space sees considerable traffic, which makes it necessary to use high-grade materials that will not deteriorate quickly. We provide excellent patio paver design and installation solutions that are right in line with your needs. Our team ensures that the best quality materials are used in these features. We assure you of a custom paver patio that is aesthetically appealing as well as highly functional, practical, and resilient. Read more about Paver Patios »


Paver Driveways
If you are getting a new driveway installed, you should consider paver installations. These units are available in a variety of sizes, shapes, designs, colors, and textures. Our team of creative designers will design your paver driveway so that it complements various other features in the outdoor areas of your home. Since we offer customized services, you can rest assured that your new paver driveway will be a value-add to your home. In addition to new installations, we also handle paver driveway upgrade jobs with the same level of professionalism and efficiency. We can design and plan the walkways leading from your driveway into the landscaping. Read more about Paver Driveways »


Turf
Installing artificial turf on your residential landscape is one of the best ways to do away with the hassles of maintaining natural grass. Today, there are many high-quality synthetic grass products on the market. We make sure that you have complete information about these products so you can make a smart choice about the features you want. We handle the installation efficiently and make sure that your artificial turf is long-lasting and easy to maintain. You will find that the high-quality synthetic grass we install is non-fading, soft on the feet, and the perfect addition to your yard. It offers an excellent return on investment. Read more about Turf »


Lighting
Creating safe, aesthetically appealing, and usable outdoor spaces is a lot about making sure that you have the right kind of lighting fixtures installed. We offer the best outdoor lighting solutions to our clients. Our designers are very creative in their approach, which means you will have lighting fixtures that highlight all the attractive features in your yard spaces. We use outdoor quality lighting products in all our projects so that these elements last for many years without any trouble. Whether you need paver lighting installed or want some driveway lights, floodlights or recessed lighting fixtures, we are here to help. Read more about Lighting »


Outdoor Living
One of the best ways to get a good return on investment in your outdoor spaces is to install various outdoor living features. We offer unique outdoor living design and installation solutions. Regardless of whether you want a patio or a deck or even your poolscape designed and installed, we are the company that can help. We can also create paved areas around your fire pit and fireplace zones so that these spaces become comfortable to use. We use the best outdoor grade products in the construction so that every element is long-lasting, very easy to maintain and a value-add to your property. Read more about Outdoor Living »


Pools & Spas
One of the simplest ways to add the fun factor to your outdoor areas is to install a swimming pool. This feature allows you to enjoy leisurely moments in your yard, with family and friends. We know from experience that pools and spas need to be designed perfectly to be functional and durable. Our designers work closely with you so that all of your ideas are incorporated into the spa and custom pool designs they provide. We also ensure that the most advanced, high-grade materials are used in all of the features so that these structures offer years of trouble-free service. Read more about Pools & Spas »

For any more information on our customized hardscape installation services for residential properties, contact Modern Paving today at 1 (855) 955-7283 to receive a free estimate on your project. You also have the option to request a free consultation through this page. Send us your project details, and we will be more than happy to help you kick-start your next project as soon as possible.